WORKS IN PROGRESS
"It Did Happen Here: Mapping Anti-Nazi Activism in Los Angeles, 1933-1941"
Curated by: Dr. Laura Rosenzweig and Dr. Caroline Luce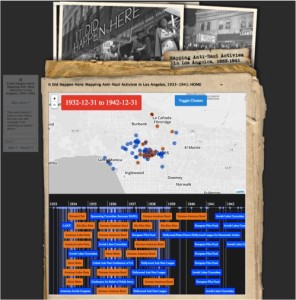 "It Did Happen Here" offers a comprehensive portrait of the landscape of anti-Nazi activism in Los Angeles using geospatial data collected from a variety of archival collections. Anchored in a sliding timeline, the interactive map details of the activities of local domestic fascist groups, as well as the Jewish community's responses to developments at home and abroad, showing that the city's Jewish residents responded forcefully to the rise of Nazism and anti-Semitism, mobilizing mass protests and forming new organizations to expose the activities of local fascist organizations, raise relief funds for their European brethren, and increase public awareness of the threat posed by Nazism. The project draws on the research of Dr. Laura Rosenzweig, whose work focuses on the formation of the Jewish Community Relations Committee and its effort to infiltrate pro-Nazi and domestic fascist groups, and Dr. Caroline Luce who writes about labor and left-wing activism in Boyle Heights.
Dr. Laura Rosenzweig received her Ph.D. from University of California Santa Cruz in 2013 and works in the UC Office of the President. A book based on her research about the Jewish infiltration of Nazi and pro-Nazi groups in Los Angeles in the 1930s is forthcoming from NYU Press. Dr. Caroline Luce received her Ph.D. in American History from UCLA in 2013 and is currently the Research and Digital Projects Manager of the UCLA Alan D. Leve Center for Jewish Studies. Her dissertation, "Visions of a Jewish Future: the Jewish Bakers Union and Yiddish Culture in East Los Angeles, 1908-1942," includes a chapter on labor and left-wing anti-Nazi activism in Boyle Heights.
"Es Geht Wohl Anders (Things Turn Out Differently): The Unexpected Life of Walter Arlen"
Curated by: Michael Hass, Dr. Mary Pinkerson and William Katin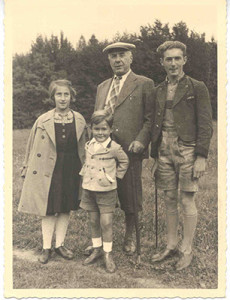 Between 1933 and 1941, some 10,000-15,000 exiles and émigrés, fleeing the destruction and persecution of Hitler and the Nazis, sought refuge in Los Angeles. Some seventy percent of these newcomers were Jewish, including internationally renowned artists, intellectuals, musicians and composers who came to the city seeking jobs in the studios of Hollywood. Their performances in Los Angeles brought to the local arts scene, enlivening institutions like the Hollywood Bowl and the UCLA Center for the Performing Arts. Es Geht Wohl Anders (Things Turn out Differently): The Unexpected Life of Walter Arlen, explores the work of an émigré critic, composer and educator who was part of this cultural revitalization. Arlen, the founding director of Loyola Marymount University's music program, covered the music scene for the Los Angeles Times for over thirty years, forging relationships with émigré luminaries like Igor Stravinsky, Darius Milhaud, and Mario Castelnuovo-Tedesco. In the process, he developed a unique musical style that blended European and American influences in poignant songs about his experiences. Named for a song Arlen wrote as a teenager in Austria, "Es Geht Wohl Anders (Things Turn out Differently)," explores Arlen's life through his music, his criticism, and the musical moments he was a part of during his years in Los Angeles.
Contributors include Michael Haas (Recording Producer and Co-Chairman of ExilArte, Music University of Vienna), Dr. Mary Pinkerson (Community Affairs Coordinator, UCLA Alan D. Leve Center for Jewish Studies) and William Katin (Ph.D. candidate in History, UCLA.)
"In Search of Fairfax"
Curated by: Max Baumgarten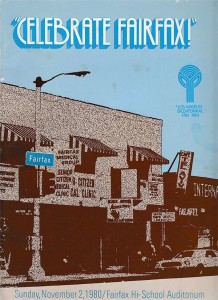 "In Search of Fairfax" explores the history of Los Angeles' Fairfax District from the 1930s through the present day. While recognized as "the most Jewish stretch of pavement in Los Angeles" and the "emotional center of Jewish life in Los Angeles," the Fairfax neighborhood has attracted an array of micro-communities and subcultures. These include upwardly mobile Jewish migrants from Boyle Heights, Chicago, and New York, followed by Middle Eastern and Soviet Jews, counterculture artists and activists, as well as Vietnamese refugees, plus African-American and Hispanic students at Fairfax High School. Blending together quantitative data and qualitative analysis, "In Search of Fairfax" will allow users to navigate the Fairfax District from a variety of perspectives, highlighting how both Jews and non-Jews alike built communities and subcultures in the neighborhood. The goal of the exhibit will be to demonstrate how multiple narratives and experiences can exist within a neighborhood that is typically seen as monoethnic and thus prompt users to reflect upon the question of what exactly makes a neighborhood "Jewish."
Max D. Baumgarten is a PhD Candidate in the Department of History at UCLA, where he is completing his dissertation, "From Watts to Rodney King: Peoplehood, Politics, and Citizenship in Jewish Los Angeles, 1965-1992."