Curated by: Caroline Luce
"Recovering Yiddish Culture in Los Angeles" aims to apply the digital strategies that have so greatly enhanced the field of Yiddish Studies to recover a long-forgotten body of Yiddish works: those produced by the Yiddish writers and poets who settled in Los Angeles. Published in small batches thousands of miles from the cultural capitols of Europe and the American east coast, these works – nearly 100 books and several dozen periodicals – have received very little scholarly attention.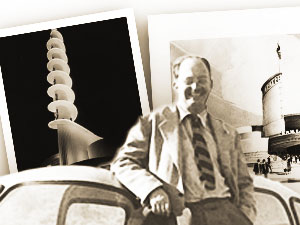 Curated by: Karen Wilson
S. Charles Lee (born Levi) helped make movie-going a respectable form of entertainment, designing downtown movie palaces, suburban theaters, and drive-ins. See how he mixed commerce with art to make movie-going a national pastime.
Curated by: Karen Wilson, Caroline Luce
The Jewish-owned Herbert M Baruch Corporation altered the urban landscape of Los Angeles County in the 1920s, 1930s, and 1940s. Travel the breadth of the county to see how the Baruch Corporation left its mark on the metropolis.

Curated by: Karen Wilson, Elliot Yamamoto
Since the mid-nineteenth century. Jews have been part of the Los Angeles landscape. Dive into historical maps to discover where and what they were up to.

Curated by: Cate Roman
As Los Angeles grew into the modern metropolis, Jewish grocers were on the forefront of grocery store innovation and quick to adapt to changing business styles. In the 1920's, grocery shopping shifted from clerk served to self serve and then later to the supermarket model. Jewish grocers were both central and marginal in these important economic developments.

Curated by: Caroline Luce
Sent by doctors from the east and Midwest to seek relief in the warm, dry climates of the West, perhaps as many as one quarter of the city's new arrivals had come to Southern California to get well in the health resorts, spas and hospitals of an emerging "sanitarium belt." The unintended consequences of the boosters' campaigns to draw people to Los Angeles brought into stark relief a range of contending interests, social anxieties, and community rivalries. Examining the origins of these three institutions maps out the matrix of science, technology and treatment, public health policy, and social attitudes about disease and contagion that shaped the place of illness in healthful Southern California.

Curated by: Erik Greenberg
Studying the Jewish institutions that exist in the Sepulveda Pass offers physical evidence of LA Jewry's westward movement and a glimpse into the beliefs and ideals that helped shape American Jewish observance and culture over the past fifty years.

Curated by: Caroline Luce
Ballin's work decorates the interiors of buildings throughout Southern California including the Griffith Observatory, Burbank City Hall, the Wilshire Boulevard Temple and the Globe Lobby of the Los Angeles Times building. But while his murals are beloved by many, historical details about his life and scholarly reflections about his artistic career are as widely dispersed as his work. This digital exhibit uses new technologies to place Ballin's murals side-by-side, enabling viewers to see them as a body of work, to discern their common characteristics, and to observe the subtle shifts in his painting style from his early days as an artist in the 1910s to his final commissions in Los Angeles in the 1950s.